Impact of CoWorking Space on Productivity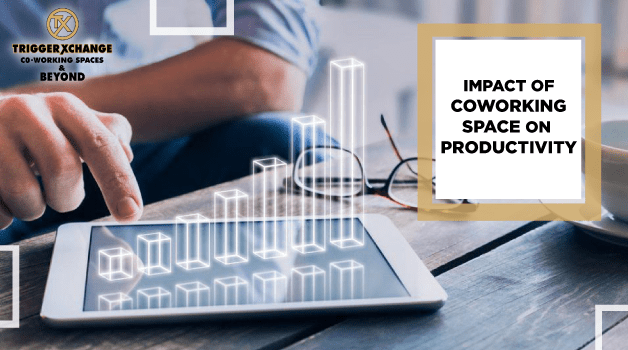 What's Productivity?
Productivity is getting important things done consistently and not quickly. We often misunderstand the meaning of productivity. Don't we?
Being productive is about maintaining a steady, average speed on a few things, and not maximum speed on everything! The productivity depends upon many factors, one of them being the working space itself.
One can be most productive when they work at a space that they love. Consider working at a coworking space and see the difference for yourself. A coworking space not only meet your needs but exceed them!
Impact Of CoWorking Space On Productivity:
Desk of your choice– At coworking space, you aren't assigned a desk instead you get to choose from a wide variety of desks. It is noticed that productivity improves as you are more focused when you work at the place of your liking.
Well-equippedA well-equipped working space helps you to be productive as there are no interruptions due to non-availability or break-down of necessary equipment. A coworking space offers good service when it comes to equipment needs.
No scope of boredom –A trick to boost your productivity is taking regular breaks. By taking regular intervals, you allow yourself to recharge for the tasks to be performed. And unlike traditional offices, co-working spaces are full of amenities like gaming zones, cafeteria, music, etc to keep you entertained.
High on motivation– At shared office spaces, you need not find motivation as you meet talented people to get inspired from. When you are surrounded by such an amazing crowd, being productive is easy. You can find yourself a great mentor to gain knowledge and to succeed in your career.
An ideal ambience – If you are a person who doesn't like a quiet place while you work than coworking space is your kind of space. There's something uniquely stimulating about the sound, sight, and even feeling of other people working nearby. The ambience itself helps you to improve your productivity.
Flexible time – Everyone is different and so is their productivity. Some people are productive in the morning hours while some are not. As coworking space is available for 24*7, you are free to choose your working hours.
Conclusion:
One can work efficiently when they have a perfect space to do so. Where to find this 'perfect space' you wonder? The answer to it is – Trigger Xchange: Co-working Space in Navi Mumbai! Breakaway from the monotony and stereotype of regular office spaces, visit us today or contact us to know more