Need Of Dedicated Desk In Navi Mumbai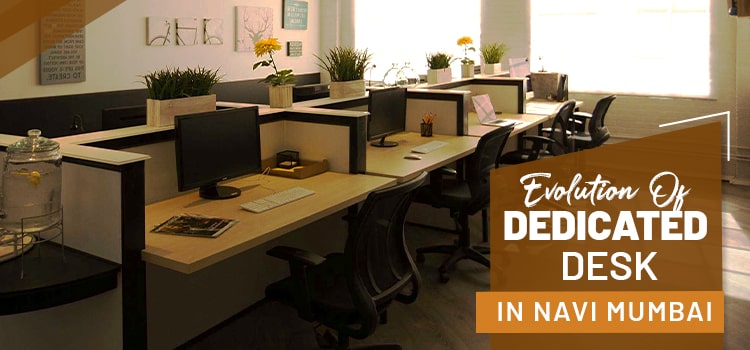 Workplace has a central role in the performance and well-being of employees.Now that many of us are working from home for almost 2 years now due to the pandemic, going back to the office gives a feeling of anxiety and fear.
With safety as a dominating thought in mind, every employee's belief would be to get assurance from their company regarding his safety and health.
Businesses and companies around the world have been hit by the pandemic so badly that it compelled them to come up with an innovative approach where the health and safety of employees and focus on work both are considered. Co-working spaces have brought an evolution in the office space world.
And, works that are activity-based and which do not require an assigned desk are a perfect match for dedicated desks at co-working spaces. But, as hot desks and the shared workspace concept is gaining popularity, the existence of dedicated desk is becoming outmoded in co-working space in Mumbai
Why To Pick A Dedicated Desk?
But, a dedicated desk has its own importance and is apt for some reasons:
Safer Option Especially In Pandemic Times:
Hot desks and shared workspaces are being used by so many people that it may require extra caution to use these spaces from a safety point of view. Dedicated desks on the other hand are intimate and consistent. It means that you will be working in the same place every day giving you assurance of safety.
Locker Facility:
If you have work that requires you to use various equipment like a camera, headphones, audio mixers, mike, etc. then you should opt for a dedicated desk as it comes with a locker to keep your belongings overnight.
Higher Bandwidth:
If your work requires you to do video editing or heavy data and share the same then a dedicated desk is an answer for you as many co-working spaces provide a wired connection to dedicated desks which increases the internet speed manifold. Also, if you work on sensitive data which requires security then too wired connection will ensure higher security as against Wi-Fi connection which is accessed by everyone working in co-working space.
Convenient For Special Needs:
Shared workspace or hot desk may not be convenient to work from even if you have the slightest of ergonomic requirements as setting up the sitting and taking it down every day in a shared workspace may be time-consuming and troublesome. Dedicated desks are best suited if you want a set up due to any special need.
Suitable For Socially Shy:
Everyday sitting with new people around you is not everyone's cup of tea. If you find it difficult to work around new faces on a daily basis then a dedicated desk is suitable for you. By working at your dedicated desk everyday you can avoid social anxiety and stress.
Cost-Effective For Companies:
Dedicated desks will prove to be a profitable option for your company if you have a job profile where you are required to be on a desk for a few days and for the rest of the days you can be on the move. This saves a lot of costs that the company otherwise would have incurred on an office set up for employees with such a work profile. You can partner with us, to have your dedicated desk in Vashi and convert all your office space-related costs into a single membership fee for a duration you want.
Saves Commuting Time & Ensures Work-Life Balance:
After facing such an anxious and stressful period of time-fighting covid-19, people now prefer to be in easy access to their families and reduce the commuting time in order to manage work life balance. Companies now prefer having several small workplaces instead of having a centralized head office so that employees find it less tiring to travel such long distances. It is useful especially in a metro city like Mumbai where a substantial part of your energy goes into commuting to and from your workplace. We, at TriggerXchange, provide you with a dedicated desk in Navi Mumbai to save your commuting time.
Personal Touch To Your Work Desk:
Many people prefer to have a working desk with a personal touch. While opting for a hot desk you sit every day on a new seat as per the availability. Which gives zero scope to personalize your seat.
A family photo frame for moral support, a medal that reminds you of your achievements or a piece of art made with love by your kid; these all hold a special place on your work desk.
Dedicated desks allow you to give a personalized touch to your desk as you consistently sit there day after day.
If your company is really looking out for a shared workspace option then you can consider going for a combination of hot desks and dedicated desks to make working comfortably for all the employees with different preferences.