The Top 10 Benefits of Coworking Spaces in 2023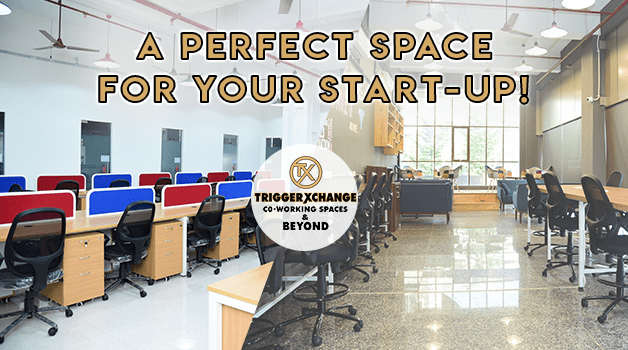 In the last few years, coworking spaces have become an increasingly popular option for individuals and businesses of all sizes. A coworking space is a shared workspace where individuals from different industries work together in a communal environment. The concept of coworking has been around for over a decade, and it continues to grow and evolve. In this blog, we will discuss the top 10 benefits of coworking spaces in 2023.
What is a coworking space?
A coworking space is a shared workspace where individuals or companies can rent a desk, office, or meeting room and work independently or collaboratively with others who are also renting space in the same location.
Coworking spaces are typically operated by a third-party provider who offers various amenities such as internet access, printing and scanning facilities, conference rooms, and kitchen facilities, among others.
Coworking spaces have become increasingly popular in recent years, particularly among entrepreneurs, freelancers, and small businesses that seek a flexible and affordable workspace that provides a professional environment with like-minded individuals.
Coworking spaces often foster a sense of community and collaboration, as individuals from various backgrounds and industries can network, share ideas, and collaborate on projects.
Many coworking spaces also offer additional benefits such as networking events, workshops, and access to mentors and investors, which can be particularly helpful for startups and entrepreneurs. Overall, coworking spaces offer an alternative to traditional office spaces, providing a dynamic and supportive environment for individuals and businesses to thrive.
The Top 10 Benefits of Coworking Spaces in 2023
Cost-Effective
One of the most significant benefits of coworking spaces is that they are a cost-effective option for businesses and individuals. Renting an office space can be a significant expense, especially for small businesses or freelancers. Coworking spaces allow individuals to pay for only the space they need, whether it's a desk, a private office, or a conference room. This flexibility makes coworking spaces an affordable option for businesses of all sizes.
Networking Opportunities
One of the most significant utilization of coworking space is the networking opportunities they provide. Coworking spaces bring together individuals from different industries, backgrounds, and experiences. This diversity creates fertile ground for collaboration and knowledge sharing. Coworking spaces often host networking events, seminars, and workshops, providing members with ample opportunities to connect with like-minded individuals.
Flexibility
Another significant benefit of coworking spaces is the flexibility they provide. Unlike traditional office spaces, coworking spaces offer flexible rental agreements, allowing members to scale up or down as their business needs change. This flexibility makes it easy for businesses to expand their operations or downsize as necessary without the long-term commitment of a traditional lease.
Productivity
Coworking spaces are designed to promote productivity. The communal environment encourages individuals to stay focused and motivated, and the amenities provided, such as high-speed internet, meeting rooms, and printing facilities, ensure that members have everything they need to get their work done. Coworking spaces also offer a change of scenery, which can be beneficial for individuals who find it challenging to work from home or in a traditional office environment.
Work-Life Balance
Another significant benefit of coworking spaces is that they promote work-life balance. Many coworking spaces offer amenities such as gym facilities, wellness programs, and social events that help members maintain a healthy work-life balance. By providing these amenities, coworking spaces create a community that supports members' overall well-being.
Access to Expertise
Coworking spaces often attract individuals who are experts in their respective fields. By working in a coworking space, individuals have access to a pool of knowledge and expertise that they may not have otherwise. This access can be invaluable for businesses that are looking for specialized knowledge or expertise.
Reduced Commute Time
Coworking spaces are often located in central areas, reducing commute times for members. This reduction in commute time can save individuals valuable time and money, allowing them to be more productive and focus on their work.
Increased Creativity
The communal environment of coworking spaces can stimulate creativity. Coworking spaces often have unique designs and layouts, which can inspire individuals to think outside the box. By being surrounded by other creative individuals, members are encouraged to share ideas and collaborate, leading to increased innovation.
Professional Image
For individuals and businesses that may not have a permanent office, coworking spaces can provide a professional image. Coworking spaces often have impressive facilities, such as reception areas, meeting rooms, and high-speed internet, which can give businesses a professional image without the overhead of a traditional office.
Community
Finally, coworking spaces provide a sense of community that is often lacking in traditional office environments. By working alongside other individuals, members become part of a community that supports and encourages each other.
Optimization of coworking spaces offers a range of benefits that make them an attractive option for individuals and businesses alike. From cost-effectiveness to increased creativity, coworking spaces provide a flexible, productive, and supportive environment that can help individuals and businesses thrive.
As the concept of coworking continues to evolve, it is likely that these benefits will only become more pronounced, making coworking spaces an even more attractive option for those looking for a dynamic and collaborative workspace.
Looking for a professional, well-equipped workspace to take your business to the next level?
Look no further than Trigger Exchange! This co-working space has everything you need to work efficiently and productively, all in a welcoming and comfortable environment. Here's what Trigger Exchange has to offer:
High-speed leased line Wi-Fi: Stay connected with fast and reliable internet.
Air-conditioned working space: Stay cool and comfortable even on the hottest days.
Tea or coffee while you work: Keep your energy up with unlimited tea and coffee.
Dedicated desk: Get your own desk in a shared space so you can always have a place to work.
Personal drawers: Store your belongings in a personal drawer for added security and convenience.
Printer and Scanner: Access a printer and scanner to get your work done quickly and easily.
Private cabins: Need more privacy for your team? Private cabins can accommodate 2–6 people.
Conference hall: Conduct meetings and presentations in a professional, fully equipped conference hall.
Corporate address: Use Trigger Exchange's address as your own for a more professional image.
Open area access: Use any available desk in the open area for any 12 days of the month.
Day pass: Access any available desk for a day with all the benefits of a co-working environment.
Presentation space: For 8–12 people, use the presentation space with a TV monitor to make an impact.
In addition to these great spaces, Trigger Exchange also offers an impressive range of amenities to make your work life easier and more enjoyable. These include:
Housekeeping: Keep your workspace clean and tidy with regular housekeeping services.
Mentor support: Get guidance and advice from experienced mentors who can help you grow your business.
Front desk service: A friendly and professional front desk staff will be on hand to assist you with any needs.
Cafeteria: Grab a bite to eat without leaving the premises at the on-site cafeteria.
Mail and package service: Have your mail and packages delivered directly to Trigger Exchange for added convenience.
Gaming zone: Take a break and unwind with a game of pool, foosball, or other games available in the gaming zone.
Security: Feel safe and secure in a workspace that is equipped with 24/7 security measures.
All in all, Trigger Exchange has everything you need to succeed in your business, from top-notch amenities to a professional and supportive environment. So why wait? Book your space today and start taking your business to the next level!